Fish Rick is an alternate version of Rick Sanchez who first appeared in the episode, "Close Rick-Counters of the Rick Kind". He makes a cameo appearance in the Season 3 premiere episode, "The Rickshank Rickdemption".
Appearance
Fish Rick shares the general appearance of Rick Sanchez, though with many distinguishable features usually acquainted with that of a sea creature. Like his grandson, Fish Morty, he wears a helmet, presumably filled with water.
Fish Rick is seen in "The Ricklantis Mixup" in the right of a crowd of Ricks and Mortys that are walking.
Fish Rick is a rival Morty Trainer in the game Pocket Mortys.
Dialogue
Pre-Battle
"

You think you've got what it takes to defeat me? Ha, good luck with that!

"
"

This is the Rick you'll wish you had never challenged. Don't be too hard on yourself when you lose.

"
Post-Battle
"

Damn you, Rick! Look at my Mortys! They don't even know which day it is. Get out!

"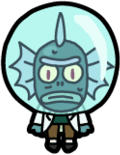 Appearances
Other Media