Beth Smith (304-X) (née Sanchez) is the wife of Jerry Smith, the mother of Summer Smith and Morty Smith, and the daughter of a Rick Sanchez, whom she left after he destroyed their world. She served as her son Morty's right hand during his rule as dictator.
History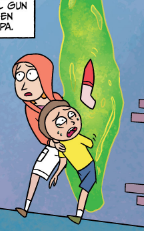 Several years prior, Beth brought her children, Summer and Morty to Dimension 304-X by stealing their Rick's Portal gun. Rick had destroyed their world and they decided to leave him. After entering their new dimension, Morty's intelligence started growing, but he became obsessed with ridding the multiverse of all Ricks. He created a monster to do that, but this drove him and his sister to a fight. Summer left Morty and Beth to work against them instead with the Resistance. During this time Morty had seized power as a dictator. At some point, Beth was forced to marry the Jerry of their new dimension, much to her dismay.
Biography
Beth is working for her son, Morty, and informs him that though they were successful at drawing Rick and Morty of Dimension C-132 to their dimension, they were not able to capture them and instead they were taken to the Resistance's hideout by Summer. She is told to activate their sleeper agent, Jerry, which she does simply by calling him and telling him what to do, while also shutting down all his attempts at flirting with her.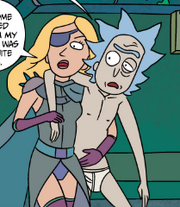 After Jerry blows up the Resistance base, Rick is brought back to Dictator Morty's base to be searched for his Portal gun, which they cannot find. Beth is left with Rick to make him talk by any means necessary. She fails, however, and Morty returns to nothing new. They are then allerted of intruders in the base and Beth is again left with Rick as the base is set to a complete lockdown. Once alone, Beth releases Rick from his shackles and helps him to the portal gun-room.
They arrive immediately after Jerry had crushed both Summer and Morty to death by accident, but they find Morty (C-132) alive. Rick and Morty use the last charge in the portal gun to leave for their own dimension, leaving Beth and Jerry behind.
Ad blocker interference detected!
Wikia is a free-to-use site that makes money from advertising. We have a modified experience for viewers using ad blockers

Wikia is not accessible if you've made further modifications. Remove the custom ad blocker rule(s) and the page will load as expected.