Blips and Chitz is an intergalactic arcade.
History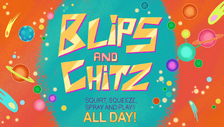 Blips and Chitz is introduced in the episode "Mortynight Run". Blips and Chitz is an arcade themed building where Morty plays a virtual reality game called "Roy: A Life Well Lived", where he lives through the entire life of a man named Roy up to the age of 55.
When Morty returned, he was furious at Rick for selling a gun to the assassin Krombopulos Michael for a single afternoon at Blips and Chitz. Rick didn't care for what Morty had to say and proceeded to take his turn in Roy: A Life Well Lived.
In the post-ending credits epilogue for the episode, they featured a commercial for the episode where Rick starred in. In the commercial an alien can be seen getting teleported into a game and getting shot and another alien can be seen getting decapitated.
Location
We are not told where Blips and Chitz is, but the events of "Mortynight Run" suggest that it is somewhat near a Federation outpost and the garage in which Morty first meets Krombopulos Michael.
Trivia
During an interview, Dan Harmon stated: "Now, we can fade in on Blips and Chitz because we've already proven that the show isn't going to start eating itself, and that will feel even more limitless if we go back to a couple things that we really enjoyed doing." hinting that it may appear in Season 3.
In the mobile game Pocket Mortys, they misspell "Blips and Chitz" to "Blitz and Chitz."
Ad blocker interference detected!
Wikia is a free-to-use site that makes money from advertising. We have a modified experience for viewers using ad blockers

Wikia is not accessible if you've made further modifications. Remove the custom ad blocker rule(s) and the page will load as expected.