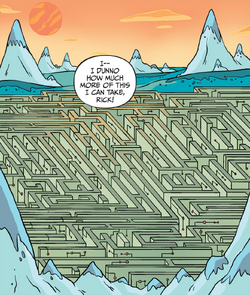 The Clackspire Labyrinth is giant maze created by Rick in which prisoners are sent to live out the rest of their days. It is first featured in Rick and Morty Issue 2.
The Labyrinth is described as "two hundred square miles of pure, uncut nightmare fuel". In Rick and Morty Issue 2, Rick and Morty are sentenced to the Labyrinth after being charged with "dimensional tampering, theft, collusion, destruction of parallel realities, assault with a deadly weapon, resisting arrest," and "soliciting sex to a judge," acts which they committed, with exception to the sex solicitation, in Rick and Morty Issue 1. Rick built Clackspire Labyrinth and Clackspire is an anagram for "Rick's Place" and has built in many hidden panels for his stuff because he knew he would be imprisoned in it one day.
Ad blocker interference detected!
Wikia is a free-to-use site that makes money from advertising. We have a modified experience for viewers using ad blockers

Wikia is not accessible if you've made further modifications. Remove the custom ad blocker rule(s) and the page will load as expected.