Courier Flap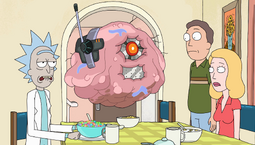 Appearances
Courier Flaps are an organic species introduced in The Wedding Squanchers that delivers messages and packages across the galaxy.
History
In "The Wedding Squanchers" Rick describes them as the 'intergalactic version of UPS, but less offputting'. They are capable of speech and conversation, and can transport packages as least as big as a human, as Jerry is abducted by one and transported to Birdperson's wedding.
Courier Flap
Information
TYPE
Item
CAN BE CRAFTED
Yes
AVAILABLE AT SALESMAN RICK
Yes (10 badges)

AVAILABLE AS REWARD

Yes (5 badges)
USABLE IN BATTLE
No
"

Takes you back to the Citadel.

"

—In-game description
Recipe
---
Ad blocker interference detected!
Wikia is a free-to-use site that makes money from advertising. We have a modified experience for viewers using ad blockers

Wikia is not accessible if you've made further modifications. Remove the custom ad blocker rule(s) and the page will load as expected.