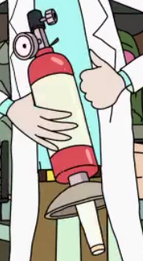 The Cure for Tuberculosis was a creation of Rick's. It was nearly used to cure Ruben of his ailment after the disease was freed inside of Anatomy Park. Unfortunately, Ruben died before Rick could administer it to him.
Trivia
Tuberculosis is a difficult illness to treat, but Rick nonchalantly pulled a cure from his lab coat. The fact that he has sure a cure handy is evidence of his genius.
See also
Ad blocker interference detected!
Wikia is a free-to-use site that makes money from advertising. We have a modified experience for viewers using ad blockers

Wikia is not accessible if you've made further modifications. Remove the custom ad blocker rule(s) and the page will load as expected.