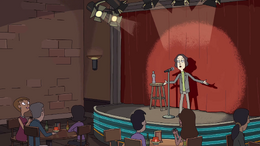 Funny Songs
is a comedy TV show that was featured in the episode
Interdimensional Cable 2: Tempting Fate
. The show is about a human
comedian
who sings improvised songs about people. In the episode it was featured in, he sang a song called
I'm a Tax Attorney
, dedicated to a tax attorney. Everyone laughed hysterically at his song even though it was mostly jumbled nonsense. Afterwards, the comedian kills the tax attorney through the use of guards, wolves, and demons.
Ad blocker interference detected!
Wikia is a free-to-use site that makes money from advertising. We have a modified experience for viewers using ad blockers

Wikia is not accessible if you've made further modifications. Remove the custom ad blocker rule(s) and the page will load as expected.