How Did I Get Here?
is a game show featured in the episode
Interdimensional Cable 2: Tempting Fate
. The show is about an alien game show host who transports people to random places across the universe and makes them wonder "How did I get here?".
The host of the show seems to directly react to what is being said by the television viewers, in this case, Morty, Rick and Beth discussing their concern on how the lady who was just at the coffee machine ended up atop a random streetlight.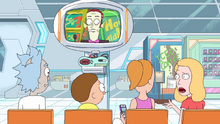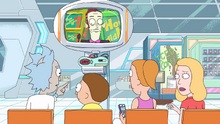 Ad blocker interference detected!
Wikia is a free-to-use site that makes money from advertising. We have a modified experience for viewers using ad blockers

Wikia is not accessible if you've made further modifications. Remove the custom ad blocker rule(s) and the page will load as expected.