Humox 5

Information
TYPE
Trainer
SPECIES
Alien
MORTYS
Random
REWARDS
Schmeckles, Random item
Humox 5 is an alien who was prohibited from going back to his home planet unless he beats one of the Ricks. In the quest "Ricktastrophe of the 4th Kind", he plans to blow up his home planet using a Neutrino Bomb, because his home planet is always at war, causing immense suffering for its people.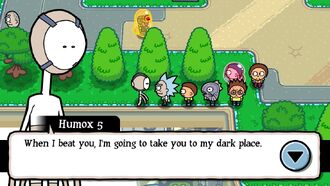 Ad blocker interference detected!
Wikia is a free-to-use site that makes money from advertising. We have a modified experience for viewers using ad blockers

Wikia is not accessible if you've made further modifications. Remove the custom ad blocker rule(s) and the page will load as expected.