"

Pluto's a fucking planet, BITCH!

"

—King Flippy Nips on Jerry's opinion about Pluto not being a dwarf planet
King Flippy Nips is the ruler of Pluto. He first appeared in 'Something Ricked This Way Comes' as a secondary antagonist.
Appearance
He looks just like any other Plutonian, yet minor alterations. He wears a golden crown and a cape. He also has no aerials on his head; this is possibly the reason he is king. He is male.
Personality
He acts quite self-centered. he is also selfish because he knows everything his son says is real, but keeps quiet about it because he wants to stay king. He is also highly manipulative.
Voice
Rich Fulcher.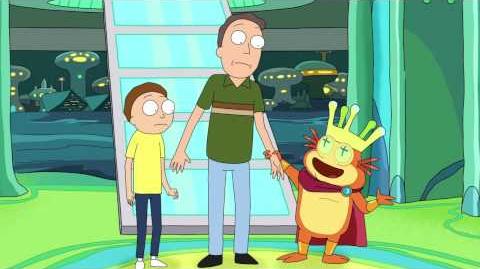 Family
Gallery
Ad blocker interference detected!
Wikia is a free-to-use site that makes money from advertising. We have a modified experience for viewers using ad blockers

Wikia is not accessible if you've made further modifications. Remove the custom ad blocker rule(s) and the page will load as expected.