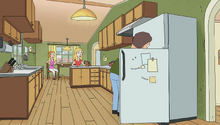 Appearance
The kitchen has a green wall with a wooden floor, 2 half cylinder laps, brown cabinets with tan drawers and white counters, a sink, paper towel, and knives, a fridge next to the stove and range hood, shelves, and 2 chairs and a table next to the window.
The Tan door opposite of the fridge goes out to The Garage.
Episode Appearances
Gallery
Ad blocker interference detected!
Wikia is a free-to-use site that makes money from advertising. We have a modified experience for viewers using ad blockers

Wikia is not accessible if you've made further modifications. Remove the custom ad blocker rule(s) and the page will load as expected.