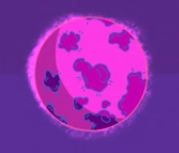 Larva Aliens are an alien species that appears in the season 2 episode "Get Schwifty". Their planet involuntarily transported to the Signus 5 Expanse to be a part of the interdimensional cromulon TV show Planet Music. Their representatives performed after Arboles Mentirosos and before Earth. They were not declared winners and their planet was destroyed by a plasma ray.
One larva alien attended the wedding of Birdperson and Tammy on Planet Squanch.
Trivia
The actual name of this species is unknown.
So far only one member of this species had a speaking role with that member being a surgical assistant at St. Gloopy Noops Hospital. This member is identified as female due to having an uncredited female voice actress.
Ad blocker interference detected!
Wikia is a free-to-use site that makes money from advertising. We have a modified experience for viewers using ad blockers

Wikia is not accessible if you've made further modifications. Remove the custom ad blocker rule(s) and the page will load as expected.