Lawyer Morty

#200

← →
Basic Information
TYPE
Paper
HEIGHT
5'2
WEIGHT
113.3
CHARACTERISTICS
Fun, Shy
Evolutionary Line
Judge Morty
Campaign Information
BADGE RQ.
None
RARE
No
Multiplayer Information
SPAWNS
{{{Spawns}}}
RARE
{{{Rare MP}}}
# OF BASE MORTYS TO EVOLVE TO
{{{Evolve}}}
"

This Morty is fun to be around but never completed law school or even attended one. He likes to dance for the attention of Ricks and is very proud of his Pog collection.

"
Lawyer Morty was added in a July (2017) update in Pocket Mortys. He was also seen in The Rickshank Rickdemption.
Attacks
NAME
TYPE
POWER
ACCURACY
AP
LV
Strengthen
Attack (Self)

  Evade (Self)

Weak

Weak

90%

100%

5
Cheek Pinch
Normal
50
95%
12
Gallery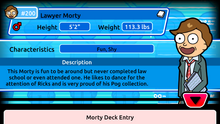 Trivia
Added in the July update of Pocket Mortys
Ad blocker interference detected!
Wikia is a free-to-use site that makes money from advertising. We have a modified experience for viewers using ad blockers

Wikia is not accessible if you've made further modifications. Remove the custom ad blocker rule(s) and the page will load as expected.