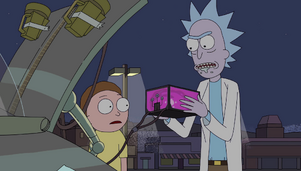 The Microverse Battery is a gadget developed by Rick to supply power to his flying ship. It appears in the episode "The Ricks Must Be Crazy."
Description
The Microverse Battery contains a miniature universe in which organic and intelligent life has developed. Rick introduced electricity to the miniature planet inside the Microverse in the form of kinetic devices which the inhabitants then use to power their homes and devices, and unknowingly, Rick's car. The people of this world consider Rick to be a benevolent alien, when in truth, he created them and is using them as oblivious slaves (with a few extra steps). Trouble occurs when a scientist in this miniature world, Zeep Xanflorp, invents his own Microverse Battery (which he calls a 'Miniverse') to provide his people with energy, thus making the kinetic devices Rick installed obsolete.
Microverse Battery
Information
TYPE
Item
CAN BE CRAFTED
Yes
AVAILABLE AT SALESMAN RICK
No

AVAILABLE AS REWARD

No
USABLE IN BATTLE
No
"

A box of slavery with extra steps.

"

—In-game description
The Microverse Battery is a craftable item in the game Pocket Mortys.
Recipe
---
Quests
Appearances
Ad blocker interference detected!
Wikia is a free-to-use site that makes money from advertising. We have a modified experience for viewers using ad blockers

Wikia is not accessible if you've made further modifications. Remove the custom ad blocker rule(s) and the page will load as expected.