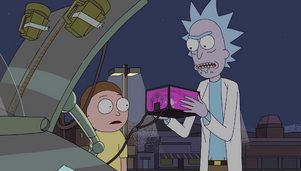 The Microverse Battery is a gadget developed by Rick to supply power to his flying ship. It appears in the episode "The Ricks Must Be Crazy."
Description
The Microverse Battery contains a miniature universe with a planet inhabited by intelligent life. These lifeforms use kinetic devices, which were given to them by Rick, to produce electricity. Under the guise of "waste power" a majority of the energy produced is extracted by Rick to power his ship. The people of this world consider Rick to be a benevolent alien, when in fact, he is using them as slaves. Trouble occurs when a scientist in this miniature world, Zeep Xanflorp, invents his own Microverse Battery (which he calls a 'Miniverse') to provide his people with energy, thus making the kinetic devices Rick installed obsolete.
Construction
Microverse - made by Rick; energy extraction via goobleboxes

Miniverse - made by Zeep Xanflorp; energy extraction via flooblecrank

Teenyverse - made by Kyle; planned energy extraction via bloobleyank
Rick describes creating a "spatially tessellated void inside a modified temporal field", while Zeep Xanflorp describes his miniverse as an "unbounded vacuum inside a temporal field".
Zeep Xanflorp states that 80% of the energy made by the inhabitants of his Miniverse is extracted for his use, while Rick does not state precisely how much of the Mircoverse's energy is extracted saying only that 'some of it' powers his ship. The Television broadcast in the Microverse world suggests that he is extracting about two thirds of the energy generated.
"

A box of slavery with extra steps.

"

—In-game description
The Microverse Battery is a craftable item in the game Pocket Mortys.
Recipe
---
Quests
Appearances
Ad blocker interference detected!
Wikia is a free-to-use site that makes money from advertising. We have a modified experience for viewers using ad blockers

Wikia is not accessible if you've made further modifications. Remove the custom ad blocker rule(s) and the page will load as expected.