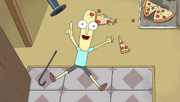 Poopybutthole's species
are a mysterious species of unknown origin and nature.
Description
Poopybutthole's species are basically humanoid with human-like arms, legs, and faces (although
Noob-Noob
has one eye higher than the other, and
Stealy
has abnormally large arms.) They wear similar clothes to humans, and operate as apparently accepted members of society. However, they are smaller than humans, yellow, and their heads and bodies are melded together and elongated into a sausage-like shape.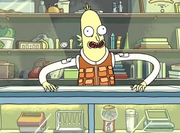 Nature
No-one has ever commented on the unusual nature of Poopybutthole's species, except for a Gromflamite drone who speculated that they might be a type of human.[1] Given that it has been speculated by some fans that Total Rickall takes place in an alternate universe, it's possible that they have never been shown appearing on Earth C-137 or the Replacement Universe.
In Rick and Morty Issue 6, Benjamin displayed potent telekinetic powers, deflecting bullets and destroying a rebel army. However, given that this was an in-universe commercial, it's possible that some or all of the events portrayed did not really take place.
Mr. Poopybutthole is notable as the only character who has explicitly broken the fourth wall apart from Rick Sanchez and Beth Smith.
Examples
Appearances
References