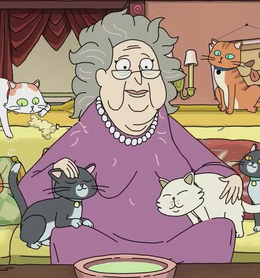 Mrs. Sullivan
is a characters who appeared in
Rixty Minutes
.
Biography
Mrs. Sullivan is the main character in Last Will and Testimeow: Weekend at Dead Cat Lady's House II which was written and directed by the Jerry Smith of Dimension C-500A. Mrs. Sullivan is a single old lady who lives with a bunch of cats. She dies early in the movie, after which her cats control her like a puppet and pretend she's still alive in order to create her will and inherit her estate, even engaging in a relationship with her attorney.
Ad blocker interference detected!
Wikia is a free-to-use site that makes money from advertising. We have a modified experience for viewers using ad blockers

Wikia is not accessible if you've made further modifications. Remove the custom ad blocker rule(s) and the page will load as expected.