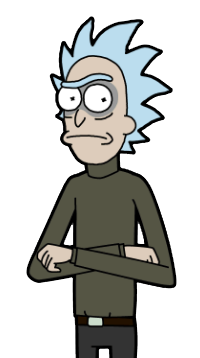 Novelist Rick is a version of Rick Sanchez who appears in the game Pocket Mortys as a rival Morty Trainer. He wears a black turtleneck sweater and has dark rings around his eyes.
Dialogue
Pre-Battle 1
"

I'm the best-selling author on Morty battling. Let me show you how real Morty training is done!

"
Pre-Battle 2
"

I have almost finished writing my guides for combining, crafting, and questing! Let me see if this battle reveals anything I've missed.

"
Post-Battle
"

I think I'm going to leave this chapter out of my next book.

"
Ad blocker interference detected!
Wikia is a free-to-use site that makes money from advertising. We have a modified experience for viewers using ad blockers

Wikia is not accessible if you've made further modifications. Remove the custom ad blocker rule(s) and the page will load as expected.