The On a Cob Planet is a distant planet in the Milky Way Galaxy that looks very similar to Earth. It appeared in the episode The Wedding Squanchers, where The Smith Family moved, having to stay away from Federal Jurisdiction. On this planet, everything is on a cob, even mountains, down to the molecular level. When Rick realized this, he was visibly disturbed, hauling the family off of the planet as quickly as possible.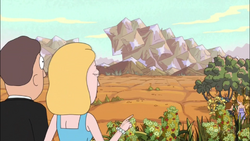 Ad blocker interference detected!
Wikia is a free-to-use site that makes money from advertising. We have a modified experience for viewers using ad blockers

Wikia is not accessible if you've made further modifications. Remove the custom ad blocker rule(s) and the page will load as expected.