The
On a Cob Planet
is a distant planet in the Milky Way Galaxy that looks very similar to
Earth
. It appeared in the episode
The Wedding Squanchers
, where The Smith Family moved, having to stay away from Federal Jurisdiction. On this planet,
everything
is
on a cob
, even mountains, down to the atomic level. When
Rick
realized this, he was visibly disturbed, hauling the family off of the planet as quickly as possible.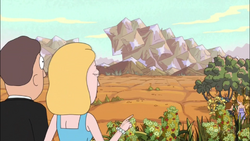 The show's creators joked[1] that there will be a three episode arc in Season 3 exploring the origin of the 'cob', and Rick's history and relationship to it.[2]
References
Ad blocker interference detected!
Wikia is a free-to-use site that makes money from advertising. We have a modified experience for viewers using ad blockers

Wikia is not accessible if you've made further modifications. Remove the custom ad blocker rule(s) and the page will load as expected.