Penp Juice is a red liquid found in the stomach of a Penp. Its two main properties is the ability to cure just about anything, and have an extremely powerful natural psychotic. It only appears in the Rick and Morty (comic series).
History
Rick (C-132) and Morty (C-132) went to Flarbellon-7 to hunt down a Penp. Rick told Morty that Penp juice could cure anything in order to motivate him to club down one of the creatures. Once they had a dead Penp, Morty was instructed to plant a device "way up its butt"; elbow or shoulder deep, to extract the fluid. The part of Flarbellon-7 containing Penps blew up right afterwards, temporarily driving the Penp race to extinction, as a result of the struggle against the Robobros.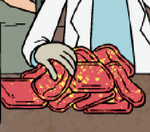 Rick started selling Penp Juice on the planet Samej-34, creating a planet-wide drug hysteria. This resulted in the Pep Pep Boyz's kidnapping of Morty and Rick's Penp juice. Rick killed off the drug gang and retrieved his juice before returning to Flarbellon-7 to use as his base of operations. At this point Rick started selling the juice in bags and distributed them by Mr. Meeseeks. The operation was taken down by the IDEA after they stormed the planet and had a long battle with an army of Meeseeks. Peacock Jones was subsequently arrested as the main man behind the Penp juice operation.
Appearances