Quantum Rick

Species:
Human
Age:
Presumably 60
Status:
Mind: Dead; Body: Taken over by Rick Sanchez
Job:
Member of the Council of Ricks
Main voice actor:
Justin Roiland
Quantum Rick is one of the members of the Council of Ricks. His body was taken over by Rick C-137 in "The Rickshank Rickdemption" in order for him to fool the other council members and assassinate them.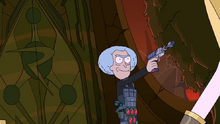 Appearance
Quantum Rick shares the general appearance of the titular Rick Sanchez, but sports a puffier hairstyle.
Gym badge:
Quantum Rick is the second council member that the player battles. To challenge him, the player must beat four Ricks in other dimensions and earn four more badges.
Appearances
Ad blocker interference detected!
Wikia is a free-to-use site that makes money from advertising. We have a modified experience for viewers using ad blockers

Wikia is not accessible if you've made further modifications. Remove the custom ad blocker rule(s) and the page will load as expected.