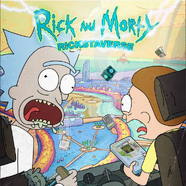 Rickstaverse is an Instagram account interactive game. Anyone can explore some universes that has previously been featured in Rick and Morty. The account has actually 24 images that together make a big collage. Each image is a scannable square quadrant. If you scan it (by one click on it), it show warps to other destinations, like planets, dimensions or buildings (there is also 5 images without any warp). Destinations are too divided, on 12, 15 or 27 qudrants. In each destination can be another warps - levels and some collectible things (like comics or minigames).
Intergalactic destinations
There are 20 warps to these 18 destinations:
Collectibles
There's 7 common collectibles and one special. There are also Garblovian Bootleggers. They've got some Season 2 clips.
Rickstaverse Instructions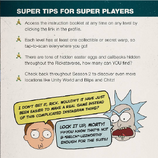 Rickstaverse Instructions is another Instagram account. There is 12 images - squares, that are explaining the game. There are also Super Tips For Super Players, where Rick tells Morty "Lock it up" - reference to Gatorade commercial.
Trivia
Jerrygotchi is a parody of Tamagotchi, a series of digital handheld pets.
In instructions account, Rick tells Morty to "Lock it up". It is referencing to a Gatorade commercial. That's product of PepsiCo, which makes sport drinks. 
Gallery
Ad blocker interference detected!
Wikia is a free-to-use site that makes money from advertising. We have a modified experience for viewers using ad blockers

Wikia is not accessible if you've made further modifications. Remove the custom ad blocker rule(s) and the page will load as expected.