Rick and Morty, Season 1
Promo art for season 1
Country of origin
United States
No. of episodes
11
Broadcast
Original channel
Cartoon Network
Original run
Dec. 2, 2013 - April 14, 2014
Time slot
Season chronology
← Previous
NA
Next →
Season 2
Season 1 is the first season of Rick and Morty.
Characters
Main
These are the characters present throughout the majority of the episodes within the first season:
Rick: (voiced by Justin Roiland) - A genius scientist and alcoholic whose inventions and experiments serve as the basis for the episodes.
Morty: (voiced by Justin Roiland) - Rick's impressionable grandson who is often dragged along on his grandfather's escapades.
Jerry: (voiced by Chris Parnell) - Morty's insecure father, whose disapproval of Rick's influence on Morty only deepens his marital troubles with Beth.
Beth: (voiced by Sarah Chalke) - Morty's holier-than-thou mother, a cardiac surgeon for horses.
Summer: (voiced by Spencer Grammer) - Morty's angst-ridden older sister who occasionally joins Rick on his adventures.
Recurring
These are the characters present in more than one episode within the first season:
Characters of the Day
These are the characters present in one episode within the first season:
Episodes
This is a list of all of the episodes of the first season of Rick and Morty. The episodes are listed in the order that they aired.
No.

#

Title
Airdate
Prod. code

US Viewers

1
1
"Pilot"
Dec. 2, 2013
000
1.10[2]
Rick moves in with his daughter's family and establishes himself as a bad influence on his grandson, Morty.
2
2
"Lawnmower Dog"
Dec. 9, 2013
101
1.51[3]
Rick helps Jerry out with the dog, Snuffles. Don't even trip about this episode because they also incept the dreams of Mr. Goldenfold.
3
3
"Anatomy Park"
Dec. 16, 2013
105
1.30[4]
On this Christmas-themed episode, Jerry forces the family to bond during the holiday. Rick shrinks Morty in size to enter his creation, Anatomy Park.
4
4
"M. Night Shaym-Aliens!"
Jan. 13, 2014
103
1.32[5]
Rick, Morty, and Jerry find themselves trapped in a lifelike simulation by an alien race of intergalactic scammers known as the Zigerions.
5
5
"Meeseeks and Destroy"
Jan. 20, 2014
104
1.61[6]
Morty makes a bet with Rick that he can lead a fun, successful adventure. Jerry, Beth, and Summer summon various helpers named Mr. Meeseeks to help solve their problems.
6
6
"Rick Potion No. 9"
Jan. 27, 2014
102
1.75
Morty asks Rick to brew him up a love potion to gain the affections of Jessica, but the potion fuses with an airborne flu virus and infects the worldwide population.
7
7
"Raising Gazorpazorp"
March 10, 2014
107
1.76
When Morty asks Rick to buy him a sex robot from a space pawn shop, it conceives his own half-alien son, leading Rick and Summer to investigate the robot's planet of origin.
8
8
"Rixty Minutes"
March 17, 2014
108
1.48
Rick installs a device within the family's TV set allowing them to watch shows from all possible realities, causing Jerry and Beth to contemplate their past decisions.
9
9
"Something Ricked This Way Comes"
March 24, 2014
109
1.54
Summer gets a job at a strange shop selling eccentric, cursed items, Jerry commits himself to helping Morty on a science project.
10
10
"Close Rick-counters of the Rick Kind"
April 7, 2014
106
1.75
27 Ricks in alternate dimensions are murdered and their Mortys are kidnapped. The Council of Ricks accuse of Rick C137 (the original Rick) of the crimes. Rick goes with Morty to go after the real culprit. Meanwhile, Jerry begins to bond with Rick J19Z7 (the "dumbest" of all the Ricks).
11
11
"Ricksy Business"
April 14, 2014
110
2.13
Summer throws a party while her parents are at a Titanic-themed getaway, only to find out that Rick has his own party with numerous aliens, monsters and other trans-dimensional beings. Meanwhile, Jerry leaves Beth at the getaway for a cleaning maid.
Gallery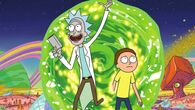 Click here to view this page's gallery.
References
Ad blocker interference detected!
Wikia is a free-to-use site that makes money from advertising. We have a modified experience for viewers using ad blockers

Wikia is not accessible if you've made further modifications. Remove the custom ad blocker rule(s) and the page will load as expected.