Season 2 of Rick and Morty features ten episodes which aired from July 26, 2015 to October 4, 2015.
Characters
Main
These are the characters present throughout the majority of the episodes within the second season:
Rick: (voiced by Justin Roiland) - A genius scientist and alcoholic whose inventions and experiments serve as the basis for the episodes.
Morty: (voiced by Justin Roiland) - Rick's impressionable grandson who is often dragged along on his grandfather's escapades.
Jerry: (voiced by Chris Parnell) - Morty's insecure father, whose disapproval of Rick's influence on Morty only deepens his marital troubles with Beth.
Beth: (voiced by Sarah Chalke) - Morty's holier-than-thou mother, a cardiac surgeon for horses.
Summer: (voiced by Spencer Grammer) - Morty's angst-ridden older sister who occasionally joins Rick on his adventures.
Recurring
These are the characters present in more than one episode within the second season:
Jessica: (voiced by Kari Wahlgren) - A classmate of Morty's that he has a crush on.
Mr. Goldenfold: (voiced by Brandon Johnson) - Morty's math teacher.
Birdperson: (voiced by Dan Harmon) - An interdimensional human-bird hybrid from a planet called Bird World who is Rick's long time best friend.
Tammy Gueterman: (voiced by Cassie Steele) - Summer's friend from school who has now left the planet Earth to live with her new boyfriend, Birdperson.
Squanchy: (voiced by Tom Kenny) - A cat-like alien who's another long-time friend of Rick's. Squanchy is a typical crazy, drunken, sex-crazed goof off who speaks in a language where the word "Squanch" is used in the place of other words.
Mr. Poopybutthole: (voiced by Justin Roiland) - An ambiguously existent guy who's either a long-time friend of the Smith family or an evil alien parasite who is bent on taking over the planet.
Characters of the Day
These are the characters present in one episode within the second season:
Episodes
This is a list of all of the episodes of the second season of Rick and Morty. The episodes are listed in the order that they aired.
No.

#

Title
Airdate

US Viewers

1
12
"A Rickle in Time"
July 26, 2015
2.12
Continuing the events of Ricksy Business: Rick finally unfreezes time after three months, which causes time to split into two different realities.
2
13
"Mortynight Run"
August 2, 2015
2.18
Morty is shocked to hear that Rick has a hitman, set out to kill a gaseous being and he goes to save him. Meanwhile, Jerry is left in a nursing home for alternate versions of himself.
3
14
"Auto Erotic Assimilation"
August 9, 2015
1.94
Rick reunited with his hive-mind ex-girlfriend, Unity, but gets some competition from another hive-mind named Beta 7. Morty and Summer free Unity's controlled minds and help them regain their identities, which unfortunately are two groups of enemies in a race war.
4
15
"Total Rickall"
August 16, 2015
1.96
The Smith family is invaded by alien parasites who take the forms of made up people in their lives and implant their minds with false memories of them in an attempt to take over the world. Then, they all try to find out which characters among them are real, and which are fake.
5
16
"Get Schwifty"
August 23, 2015
2.12
The earth is invaded by a giant head known as Armagheadon, who is putting their planet on a game show, where they have to make a new hit song or be destroyed. However, it's not entirely clear about it, as a vast majority of the world, misinterprets him as a god and they all start worshipping him.
6
17
"The Ricks Must Be Crazy"
August 30, 2015
1.91
The space cruiser breaks down and Rick and Morty travel inside of the battery, which is a miniature universe of people who produce the ship's energy by working in their everyday lives. Morty, however sees this as slavery. Summer is left behind in the ship, but the security system starts to protect her a bit too much.
7
18
"Big Trouble In Little Sanchez"
Sept. 13, 2015
1.97
Rick tries to loosen up and have more fun by putting his mind into an artificial teenage version of himself and becomes the coolest kid at school. Meanwhile, Beth and Jerry go to an alien psychologist for their marriage issues.
8
19
"Interdimensional Cable 2: Tempting Fate"
Sept. 20, 2015
1.79
Continuity of Rixty Minutes: Jerry gets infected and goes to an alien hospital and so the rest of the family watch a little TV while they wait. In the hospital, Jerry learns that his penis is a perfect match for the heart of a very important alien that is about to die.
9
20
"Look Who's Purging Now"
Sept. 27, 2015
1.89
Rick and Morty go to a planet where they have a yearly purge, and Morty falls in love with and attempts to save a girl from there. Meanwhile, Jerry's loss of a job gets to him and he spends his time trying to bond with Summer.
10
21
"The Wedding Squanchers"
October 4, 2015
1.84
Rick unwillingly takes the Smith family to see Birdperson and Tammy's wedding on Planet Squanch. Rick believes that Birdperson is throwing his life away, by getting married, and things get out of hand really fast.
Gallery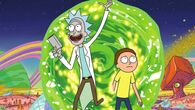 Click here to view this page's gallery.
References
Ad blocker interference detected!
Wikia is a free-to-use site that makes money from advertising. We have a modified experience for viewers using ad blockers

Wikia is not accessible if you've made further modifications. Remove the custom ad blocker rule(s) and the page will load as expected.