Shongi the Living Planet is a living ball so massive it is a planet. Its surface has a skin-like appearance and most of it is covered in hair and mighty nipples which can provide delicious Molk to hundreds of star systems.
History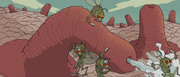 After the downfall of the Galactic Federation, a lot of jobs opened as "molkers" on Shongi for Gromflomites to attain a new food supply for the Galactic Federation.
Ad blocker interference detected!
Wikia is a free-to-use site that makes money from advertising. We have a modified experience for viewers using ad blockers

Wikia is not accessible if you've made further modifications. Remove the custom ad blocker rule(s) and the page will load as expected.