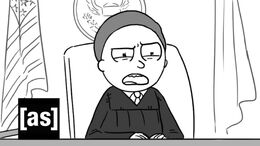 State of Georgia vs. Denver Fenton Allen
is an animatic of
Rick and Morty
, featuring
Rick Sanchez
and
Morty Smith
, playing the roles of Denver Allen and Judge Durham in a word-for-word reenactment of the court case of the same name. It was released on Adult Swim's YouTube account on August 4th, 2016.
Background
Denver Fenton Allen was in jail for making terroristic threats. While in jail he had beaten a fellow inmate to death. On June 17th, 2016, a pretrial hearing was held by Judge Bryant Durham. This hearing was to determine if Denver could have new counsel named to represent him at his upcoming murder trial. When Durham refused to name new counsel, Denver unleashed a stream of profanities on him and threatened to kill his whole family. Durham verbally fought back, provoking him with other insults, until Durham eventually adjourned the hearing.
The entire transcript of the court case was released to the public. Since then, there have been many people who make reenactment videos of the court case, going word for word, based off of the transcript. In July a Rick and Morty version of the video representation of the court case was shown at Comic-Con, and was later released on Adult Swim's YouTube account. Rick Sanchez and Morty Smith took on the roles of Denver Fenton Allen and Judge Bryant Durham, respectively. Justin Roiland reprised his role as Rick and Morty, while the Deputy Sheriff, Mr. Wyatt, and the Court Reporter were respectively voiced by Sarah Carbiener, James Atkinson (who edited the video), and Tom Kauffman.
After the hearing Judge Durham recused himself from the case. He was later admonished for getting into a verbal sparring match with Allen.
Video
Pocket Mortys
Judge Morty is one of the collectible Mortys in Pocket Mortys.
References
Ad blocker interference detected!
Wikia is a free-to-use site that makes money from advertising. We have a modified experience for viewers using ad blockers

Wikia is not accessible if you've made further modifications. Remove the custom ad blocker rule(s) and the page will load as expected.