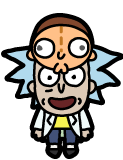 Super Fan Rick is a rival Morty trainer in the game Pocket Mortys. He is characterized by his excited attitude and obsession with Mortys.
Dialogue
Pre-Battle
"Your Mortys look so cool! Let me see them.
They look like they're no match for my Mortys. Let's find out!"
"I used all my coupons at a Blips and Chitz machine. Now I have all these cool Mortys.
Let's see how well they battle."
Post-Battle
"Wow, what a battle! Let's go collect more Mortys from new dimensions and do it again."
Citadel
"M-m-m-m Morty! I love me a Morty!"