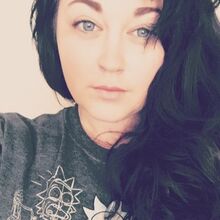 Tamara Henderson was the Executive Assistant for Rick and Morty as well as Justin Roiland's personal assistant. She started working for the show at the beginning of Season 2. She also ran the show's Facebook and Twitter accounts. She announced that she would no longer be working for Rick and Morty via Twitter on March 24, 2016.
Biography
Henderson attended film school for stop motion animation. She has worked on movies and TV shows, usually the assistant art director, or just as part of the art crew. She is especially good at building sets and designing.
Henderson was the assistant for Gordon Ramsay's US Executive Chef, Chef Andi Van Willigan for about a year. After things started slowing down for Andi, knowing someone on the show and knowing Henderson would need to look for another job soon, she suggested that Henderson apply for a job with Rick and Morty. Henderson was hired soon after meeting Justin, and has been working for the show ever since. Henderson says that she "absolutely adores Justin" and "working for him has been fucking awesome."
Ad blocker interference detected!
Wikia is a free-to-use site that makes money from advertising. We have a modified experience for viewers using ad blockers

Wikia is not accessible if you've made further modifications. Remove the custom ad blocker rule(s) and the page will load as expected.