Verl worked as guard and doorman at the Pep Pep Boyz headquarters. He was killed by Rick Sanchez (C-132).
Appearance
Verl was a large orange/brown alien with a very strange head and face. He had a flesh tunnel-piercing in each ear lobe and long fangs. His hands were huge, hairy and look similar to a gorilla's hand. He wore a green hat, a green hooded sweatshirt, a torn green shirt, purple pants and red shoes. He also wore one golden ring on each hand.
Personality
Verl appeared at first to be a very stern man, grabbing Jerry by his shirt and dragging him with him. Later he is seen sitting down with Jerry and telling him how he needed to vocalize his feeling to Beth in order gain her respect, showing that he was a deep alien who cared a lot for others.
Biography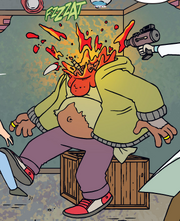 Verl was a part of the drug gang Pep Pep Boyz and worked for Little Drug Lord Fauntleroy, where he was tasked with standing guard at the door. When Rick(C-132) and Jerry(C-132) went to their hideout to retrieve a kidnapped Morty, Jerry knocked on the door and demanded to get his boy back, but was left by Rick. Verl grabbed Jerry and took him inside to keep guard on until his boss wanted him. He and Jerry started talking while Rick was taking out the rest of the Pep Pep Boyz and Verl was giving Jerry advice on how to gain Beth's respect by voicing his feelings. He was then shot and killed by Rick to get Jerry back and find Morty.
Trivia
Though Rick says Verl was a Garbletrax, another member of Pep Pep Boyz said Verl was a Tentazoid. It could be his last name, or one of them could be wrong.
His species might have regenerative abilities